At Storytellers Australia, we've been all about innovation, creativity, and weaving tales from the unexpected. South by Southwest, with its wild mix of art, music, tech, and culture, has swallowed us up and spat us out feeling reinvigorated and freshly inspired. Beyond the tangible, our time at SXSW introduced us to a community of like-minded agencies and entrepreneurs that have reaffirmed to us the value of idea-sharing and collaboration. Besides unmonitored margarita drinking at 4pm on a Wednesday, SXSW has left an indelible mark on our vision, shaping our goals moving forward into the new chapter of STA.
Keynote Speakers: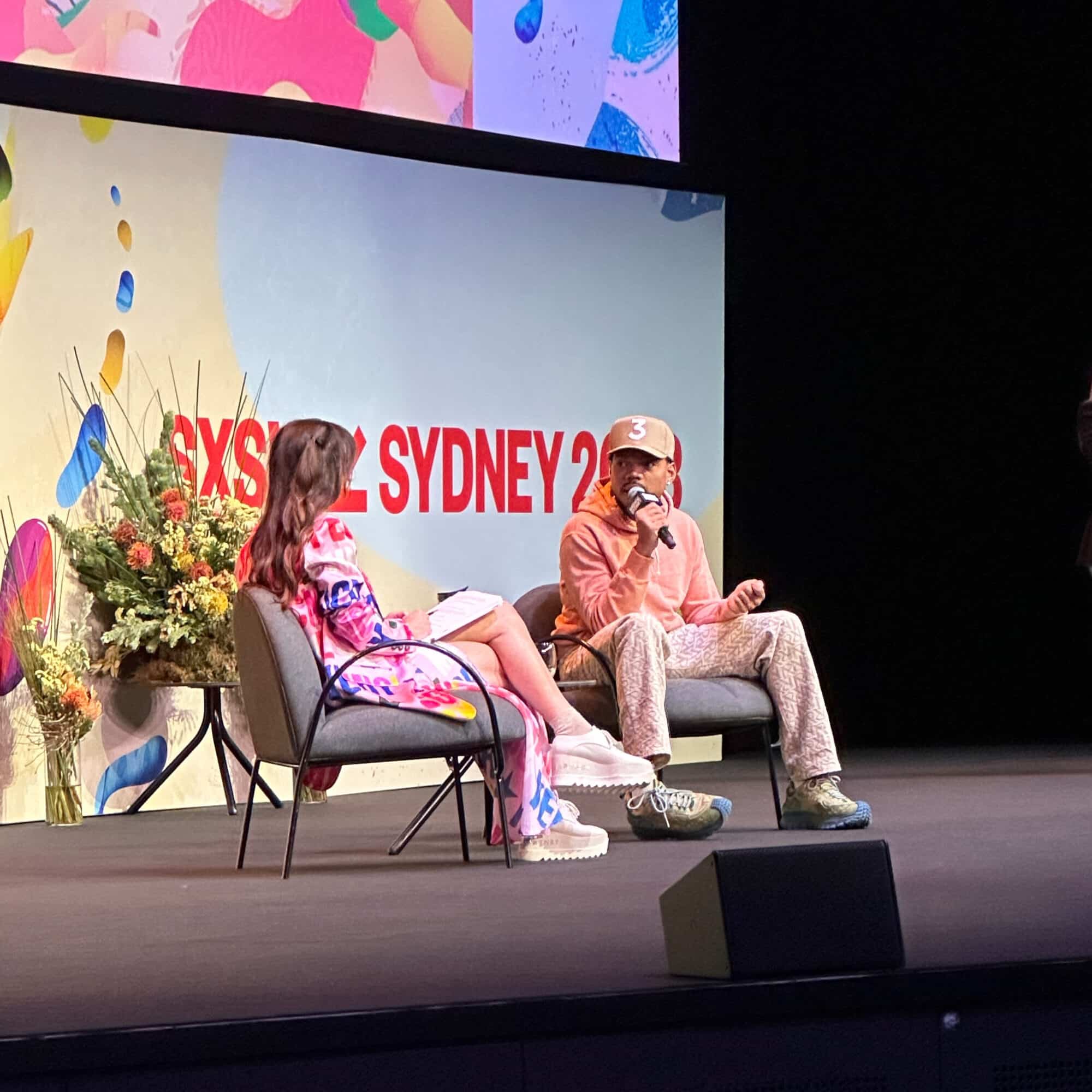 The celebration of 50 years of Hip Hop took center stage, featuring Chance the Rapper in conversation with Poppy Reid, where they navigated his career as a wholly independent artist, alongside his personal experiences in South Side Chicago. From these experiences birthed the founding of his charity, SocialWorks, supporting the futures of marginalized youth. Going against the grain as an artist, and maintaining artistic integrity is rare in a world so saturated by capital, and Chance manages to remind us that profit needn't be a hindrance to creativity. Charlie Brooker's keynote conversation embraced the terrifying advancements of technology, revealing the unsettling parallels between his brainchild Black Mirror and the ever-blurring lines of our tech-dominated reality. As well as reminding us to question the unforeseen consequences of our digital age, Brooker took us through his method of ideation, where; yes the concept is there, but what is the story? Communicating a message is more than just the root idea, it's about finding a middle ground with who you're communicating with, and shaping the ideas to meet in the middle.
The Featured Artists:
There are varying morning moods at the STA office, depending on who has gotten to the speakers first. As a very music-reliant group, the solace we find in sharing music tastes and exploring sound experiences has not only improved our work environment, but also provided a better understanding of who each of us are. At SXSW, STA scattered across the city to experience a range of listening parties, showcases, and gigs. At the epicenter of the festival, the mainstage of SXSW was planted in the heart of Tumbalong Park with notable sound titans like BMI, Laneway, and Warner Music, presenting both emerging and established artists. For those looking for more intimate performances, presenter showcases were peppered throughout the city, with the Spotify House taking residence at the iconic Lansdowne Hotel and The House of Vans gatecrashing The UTS Underground, to name just a few. From the electrifying Indie darling Connie Constance to the infectious beats of J-Pop rookies XG, the sonic soundscape was set for a diverse and vibrant musical journey. In addition to the vast line-up of artists, the festival also promised thought-provoking discussions from industry leaders, touching on topics such as the future of creativity and AI, the fusion of music and tech, and the platforming of diverse storytellers. Through all that, some of us are still adjusting to the drastic decibel difference of reality, and others, icing bruises obtained from energetic mosh pits.
Tech, Fashion and Culture:
Virtual reality, artificial intelligence, and blockchain were among the technologies showcased. We left the event convinced that staying on the cusp of technological advancements is pivotal in creating innovative marketing campaigns and UX for our clients. At its intersection with fashion and culture, street style took on a life of its own, with SXSW-goers donning meticulously curated outfits that were both bold and expressive. One particular STA staffer has been trawling post-SXSW 'best-dressed' articles in hopes to find a surprise candid of themselves stomping through the ICC. This tech-fashion-forward atmosphere encouraged us to think about how aesthetics and cultural context influence zeitgeist, and how that can trickle into our content.
Moving Forward
We are determined to infuse every campaign with a spirit of innovation, whether it's through creative content, technology integration, or unique client experiences. After our immersive experience at SXSW 2023, Storytellers Australia has set its sights on a few key goals:
(1) To nurture idea-sharing and collaboration in our industry, we plan to host our own thought leadership events and panels, drawing on our network of experts and partners.
(2) Keeping an eye out on how to seamlessly integrate new software and equipment into our workflows for a better user experience.
(3) Authenticity is the key to the future of marketing. Our goal is to continue to connect with clients by personalising every step of the way. We want to ensure that the services we provide are a true reflection of our craft and dedication.
As we embark on this exciting new chapter, we're ready to bring the energy and inspiration of SXSW into our work, delivering even greater value to our clients in the dynamic world of content making and design.